Description
Shade Cloth – 50% LIGHT SHADE – 155 GSM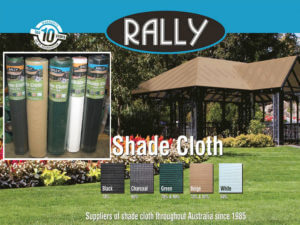 This Premium Quality Shade Cloth is a fantastic product, with a variety of uses.   Rally Shade Cloth is backed by a manufacturer 10 year UV warranty!  Our customers have purchased our Shade Cloth for:
GREEN HOUSES / SHADE STRUCTURES

PRIVACY SCREENING

PATIOS AND PERGOLAS

VEHICLE PROTECTION – CARS, BOATS, TRAILERS ETC

AND MORE
AVAILABLE IN:
1.83m x 50m Rolls or
3.66 x 50m Rolls
COLOURS AVAILABLE IN 50% INCLUDE
SHADE FACTORS:
Dark Green = 58%

Black = 65%

White = 36%
Check out our handy Shade Cloth Tips here:  https://wp.me/p7J1aM-RJ
We offer Australia Wide shipping, so what are you waiting for?  Beat the heat and order this fantastic product today!